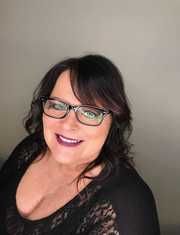 Malisa Gale
Owner/Stylist
Cosmetology School:
Knox Beauty College
Year Experience:
25 years
Special Training:
I have trained hands on w/ Paul Mitchell spokesman Robert Cromeans, I've attended the Redken Symposium in Las Vegas 3 times, studies at the Institute of Courage in Santa Monica California 2 times,. I also have attended the Grand Rapids hair shows for 20 years as well as the IBS show in Chicago.
As for as the salon, we've had In Salon guest artist training our team hands on, like Victoria Secrets stylist, Patrick Mcivor, Redken New York Exchange trainer, Debra McCan, to name a few.
Specialties:
I specialize in an array of Hair Color from Foiling to creative color.
Additional Preferences:
I love cutting dramatic short styles.
Ideal Guest:
Energetic, down to earth quests that allow me to use my creative side to make them look and feel their best.
Additional Information:
I live a very fast pace life w/an optimistic attitude, I have an aggressive and creative approach with hair and love to create.
Favorite Tag Line:
If your hair isn't becoming of you, you SHOULD be coming to me!
FOLLOW MALISA ON INSTAGRAM